Honoring Those Who Serve
Richard Arvine Overton — The Super-Centenarian Veteran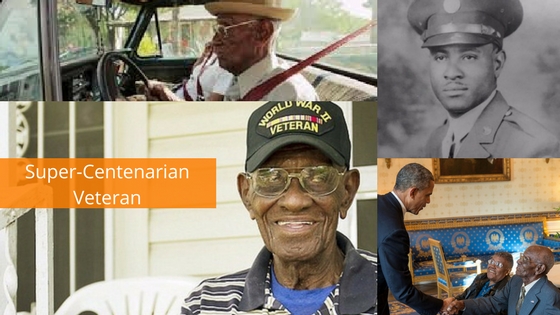 We recently learned about the life of Richard Arvine Overton, the oldest living war veteran in America. Richard served our country during World War II where he was a U.S. Army Corporal in the all-black 1887th Engineer Aviation Battalion. Richard lives in Austin, Texas in the same home he's occupied for over 72 years. At 109, Overton got his driver's license renewed saying, "other people drive crazy". Mr. Overton definitely has a magnetic personality and first came to notoriety in 2013 when he appeared on Fox News and met with the Texas Governor. His comment on Fox News went viral and he has since met with President Obama and honored numerous times at professional sports games.
"smoking cigars and drinking whiskey-stiffened coffee."
Richard loves smoking cigars and many people ask him why. He says he doesn't inhale and it makes him feel good– you can always find him on his front porch with his beloved cigars. In 2015, Austin natives Rocky Conly and Matt Cooper made a short film about Richard Overton, we all watched the short film this morning and it was a great story about a man who has served our country and lives happily at home at the age of 111.
Richard prefers to live at home with his cats, guns, family, car, and of course his cigars. He has a GoFundMe where people can donate to keep Richard at home with the assistance of an elderly caregiver. We would love to help him out with his home care but he is in good hands down in Austin, Texas. Mr. Overton was recently released from the hospital with pneumonia, ready to fire-up and celebrate Memorial Day weekend. This Memorial Day weekend we will think about Richard and other men and women who have served our country. We honor those who serve and are grateful for their sacrifice.